We're Getting Mutants in the MCU - The Loop
Play Sound
Alice Michelle is the daughter of Wynonna Earp and Doc Holliday and the foster daughter of Gus McCready.
History
Alice was conceived in Bury Me With My Guns On during an ongoing relationship between Wynonna Earp and Doc Holliday.
Biography
Wynonna was initially unaware of her pregnancy, until Mictian possessed her. Mictian left Wynonna to possesses Waverly Earp, Wynonna's younger sister. Upon doing so, Mictian told Waverly that Wynonna's body was "too crowded". In Let's Pretend We're Strangers, after Mictian was killed and everyone was restored, Waverly gave Wynonna a pregnancy test which had a positive result.
In Whiskey Lullaby, Wynonna was conflicted about how to handle her pregnancy and initially wanted to keep it a secret until she decided on a course of action. However, when Purgatory fell under a sleeping spell for weeks, the baby continued to age despite Wynonna's slumbering state. Despite the child's rapid growth and her growing bump, Wynonna still wanted to keep the pregnancy under wraps until she could think things through. Nicole walked in on Wynonna touching her bump, but promised the mother-to-be that she wouldn't tell anyone. She did make a comment under her breath about feeling sorry for Wynonna's gynecologist.
Hypnos remarked the oddity for the child's progression during a sleeping spell, stating that the child clearly inherited Wynonna's knack for breaking the rules.
Doc later found out about the pregnancy when Wynonna saves him from The Widows. She pulled back her coat to share with him the news herself, which shocked him, causing him to leave. After time had passed, he handed Waverly a note to pass to Wynonna, saying he was all in with being there for Wynonna and their baby.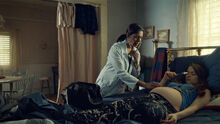 In Everybody Knows, The Widows, who were under the guises of Mercedes and Beth Gardner, found out about the pregnancy when Wynonna and Dolls searched their house for Tucker Gardner. She fainted on the way out of the home, which prompted Doc and Dolls to fetch an OBGYN for Wynonna. Wynonna learns that if she wants a genetics test she needs blood from both parents, which sparks her fear that Doc might not be the father after all.
She later admitted to Nicole that she had a one-night-stand with a guy from a bar that could be the potential father of her child. They went to Pussy Willows together to find the guy, who turned out to be a revenant named Jonas. Jonas is excited about being the father, hoping that the hybrid child will be the "start of a new race" claiming that he'll be famous among the revenants. Even though he might be the father of her child, Wynonna couldn't let the other revenants know that she's pregnant, so she sent Jonas back to hell with Peacemaker. Doc also discovers the child's questionable patronage and took a step back from his stance, though he was still supportive of Wynonna.
In No Future in the Past, the child can be seen on an ultrasound. The oddity of the image freaks Wynonna out who yells at the OBGYN, who assures her that everything is going to be okay. She asks if Wynonna wants to know the sex of the baby, but Wynonna isn't ready.
Wynonna finally goes into labor in I Hope You Dance, but is intercepted on her way to the hospital by The Widows, who want to use the baby to revive their husband. Their plans are to feed the child to their husband so he can regain his strength. Wynonna and Doc kill The Widows before they can get to the child.
Wynonna, who can't make it to a hospital, is forced to give birth on the pool table at Shorty's. Rosita betrays Wynonna and Waverly by rendering Waverly unconscious so she can steal the baby after the birth and deliver it to the revenants as her ticket out of the Ghost River Triangle. She assures Wynonna that the baby will be fine and healthy, but she can't be so sure about the mother. In the meantime, Dolls struggles with the Brotherhood who wants to take the child and raise it as their own so it will be the best demon slayer ever known. Dolls refuses their offer, with the group clarifying that they will kill everyone who knows about the pregnancy - including Wynonna's OBGYN. Dolls then kills the Brotherhood to protect the child.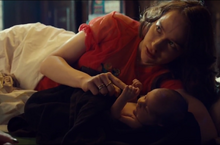 Waverly is able to scare off Rosita with Peacemaker, just in time to deliver baby Earp. The child is adorable and tiny much to Wynonna's delight, but also her heartbreak. She can't keep the child due to the danger it will be in at Purgatory and is forced to give the child to Waverly who whisks her away to the border alongside Nicole. She tests the child's Revenant genetics, and her own, by passing through the Ghost River Triangle. When both are fine, they know for sure that the child is Doc's and not Jonas's. Waverly patiently waits for Perry to land the helicopter that will take the child to safety. Perry arrives with a wet nurse ready to take the child, but Waverly remembers her promise to Wynonna that Doc will get a moment with the child and refuses to let the child go. Doc arrived and held the child, sharing a moment with her, before Perry flew the child to safety.
During a private moment, Wynonna tells Doc that she named their daughter Alice, after his mother, and Michelle after her own. Their daughter will have the last name of Michelle to protect her from those looking for an Earp, while Wynonna's Aunt Gus McCready will raise the child until Purgatory is made safe and Bulshar Clootie is dealt with.
In Friends in Low Places, Wynonna travels to the Garden of Eden to rescue Doc but he mistakes her for a shapeshifter. She brings up Alice to prove that she is the real Wynonna.
In Old Souls, with everything in Purgatory finally settled and the town safe from demons, Doc leaves the Ghost River Triangle to travel the world and start a new life. Wynonna stops him and, now a couple once again, the duo agrees to stop in Miracles, Montana, to find Alice. While Doc worries she won't recognize them anymore, Wynonna is confident that Alice will.
Trivia
Appearances
Gallery