Willa Earp (born October 7, 1987) was a former Earp heir and the former ally and lover of Bobo Del Rey. Willa was the eldest daughter of the late Ward Earp and Michelle Gibson, and the sister of Wynonna and Waverly Earp.
Biography
Willa Earp was born on October 7, 1987, and is the eldest daughter of Ward and Michelle Earp. Being the eldest, she was originally supposed to be the Heir and was rigorously trained from childhood by her father. After her father's death and her abduction in May 2000, she was presumed dead and the responsibility went to her younger sister, Wynonna.[1]
Willa was originally thought to be dead, but Bobo simply told all the revenants that he killed her. In reality, he hid her away, protecting her for years. Over that time, he slowly developed feelings for her, and her for him. Before her 27th birthday, her memory was taken away by Constance Clootie, and she ended up in Lou's cult home until Wynonna rescued her. Her reunion with her sisters was short-lived and fraught with difficulty as she had changed from the trauma and her years in captivity. Once her memories returned, she single-mindedly sought to leave Purgatory with Bobo by her side.
History
Season 1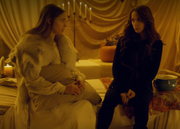 In She Wouldn't Be Gone, Willa Earp appears as "Eve." Wynonna shows up at Lou's cult home. As "Eve," Willa draws a hot bath to welcome Wynonna and takes Wynonna to their sleeping quarters. They seem to bond, but Wynonna has to escape and can't trust "Eve" yet so Wynonna knocks her out with an unused bedpan. After Wynonna tries to escape with Dolls, they get caught again but are released with 2 black marks on their faces that can't be washed off. The black marks are a sign for Lou's shapeshifting wolves to attack the mark bearers as prey. "Eve" has the other women of Lou's cult strategically drop Wynonna off back in Purgatory, which allows her to regroup and plan to rescue the women. In the meantime, Lou marks all the women with the 2 black marks and roughly slaps "Eve" when she protests. Wynonna comes to the rescue with Dolls. Together, Wynonna and "Eve" work to take down Lou. Lou attempts to escape on a snowmobile, but "Eve" is able to shoot him with the Peacemaker, something only Earp should be able to do. Wynonna is excited that Eve might actually her sister, Willa, and invites "Eve" to stay with them after all the other women's families show up and take them home. At the end of the episode, Wynonna and "Eve" arrive back at the Earp homestead. Gus is shocked and immediately recognizes "Eve" as Willa.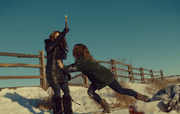 In Landslide, Dolls verifies Willa's identity as Wynonna's and Waverly's sister using a genetic test. Wynonna and Willa have target practice, and Willa proves to be an excellent shooter. When she touches Peacemaker, some of her memories of shooting with their dad training her to be the Warp Heir come back. Later that night, Waverly tries to show Willa some family memories, but things get tense, and Willa runs away in the night. The next day, Waverly and Wynonna find Willa drinking at Bobo's Saloon. Willa publicly shoots a Revenant, and the sisters have to fight off other Revenants in the bar. A patron's recording of this incident jeopardizes the Black Badge operation. Willa eventually realizes that her shooting was wrong and apologizes to Wynonna. As they patch things up in the barn, Waverly watches and feels left out about the sisterly bond growing between Willa and Wynonna. During the mercenary attack on the Earp residence, Willa and Waverly come out guns blazing, but one survivor gets away and Willa hunts him down. However, she gets ambushed, and Bobo Del Rey saves her. When Waverly is about to shoot him, Willa knocks Waverly down and returns the favor.
In House of Memories, Willa and Wynonna question the Revenant Whiskey Jim, and he reveals that there was a surge a few years ago. He also suggests the sisters battle it out for Earp heir, which makes Willa mad. She grabs Peacemaker and shoots Whiskey Jim between the eyes. Wynonna is upset on Dolls' behalf since Jim was Dolls' prisoner, but Willa doesn't care. At the station, Dolls performs hypnotism on Willa to bring back her memories. Willa remembers some swan origami and traumatic memories around her father's death and her kidnapping. She storms out and later walks in on Nicole applying Neosporin to Waverly's scar. Willa rudely wipes the Neosporin off and puts on her own homemade salve. Nicole leaves uncomfortably, and Willa apologizes to Waverly for her poor manners. Somehow, Willa manages to walk in on Waverly and Nicole again, however, this time, she finds them making out. Willa asks if Wynonna knows that Waverly is a "gay," and Willa relishes seeing Waverly uncomfortable. Nicole has to leave again, but this time, Waverly calls Willa out for being a bully in their younger days and similarly threatening to reveal a secret. Later, walks out to the homestead's fence and finds an origami swan and Boba. Waverly shows up and shoots the swan out of his hand. The sisters make up and then head to Swan Reservoir. There, they find the treehouse, where Willa was kept captive all of those years. Her memories return, and she remembers all the time Bobo spent with her and how the Stone Witch took her memories away. At the town party hosted by Bobo, Willa dismisses Waverly and makes it clear she wants Peacemaker by her side. Wynonna shares the letter she found that states that Willa is the true heir. Wynonna tries to protect Willa, but Willa insists on staying at the party and drinking. After turmoil ensues when the champagne is revealed to be poisonous, Waverly grabs Willa's hand to get her to safety, but Willa slips away when Waverly runs into Nicole and kisses goodbye. The episode ends with Bobo and Willa meeting up on the empty streets of Purgatory. Now that her memories have returned, she calls Bobo Robert, and he calls her baby. They walk away hand in hand.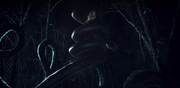 In I Walk the Line, Willa and Bobo dream about when they can spend time together once they leave the Ghost River Triangle. However, since Waverly had switched guns, Willa no longer had Peacemaker, and Bobo could not cross. So Willa heads back into town and pulls a gun on her sisters to get Peacemaker. She ends up shooting Officer Haught, who fortunately survives due to a bulletproof vest. Waverly and Wynonna search for their sister, and Waverly tries to intercept Willa at the tree house but finds Bobo instead. He explains how he sought help from the Stone Witch to save Willa's life, and they ended up falling in love. After Waverly hides, Willa shows up with Bobo. At the arch leading out of the Ghost River Triangle, Wynonna and Doc confront Willa and Bobo. After Willa crosses the line, Willa and Wynonna deadlock with their guns. Immediately after Dolls shoots Willa, a giant snakelike beast is unleashed that wraps around Willa and strangles her. Wynonna kills Willa to prevent her from suffering any further.
Relationships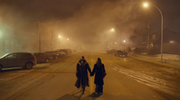 Relationship: Lovers; both deceased
Bobo saved Willa from The Seven and other Revenants at the time of Ward Earp's death. They eventually fell in love over the 16 years they spent together. Their relationship came to an end when Constance Clootie freed Willa and wiped her memories. Wynonna eventually brings Willa back to Purgatory and she later gets her memories back (including those of Bobo). They restart their plan of crossing the Ghost River Triangle together to free the revenants and be together. Wynonna ends up shooting both of them with Peacemaker, effectively ending their relationship.
Relationship: Sisters
Willa and Wynonna were very close as kids. Willa describes them as being "peas in a pod". Wynonna grieved for Willa when she thought she died as a kid. Wynonna is also the one who saves Willa from Lou. They rekindle their sisterly friendship when Willa regains her memories until her plotting with Bobo gets in the way. Wynonna didn't want to shoot Willa even though she betrayed them. She likely only shot Willa since Dolls already had and wanted to put her out of her misery.
Relationship: Sisters; Estranged
Willa and Waverly did not get along very well as children. Waverly claims that Willa once caught her sneaking through their dad's things, so Willa made her walk across a far up beam. In No Future in the Past Waverly also revealed that when she was younger, Willa threw her stuffed bunny out onto a frozen lake. She stated that she believed Willa had done it on purpose, knowing the ice was thin; that Willa wouldn't pull her out because she hated her. Even once Willa is rescued and her memories come back, they still end up fighting and Waverly seems unsure of Willa's return, and is actually quite afraid of her. The worst of it happens when Willa shoots Waverly's girlfriend, Nicole Haught so that she can get away with Peacemaker.
Appearances
Media
Trivia
Willa and her younger sister Wynonna were considered close to one other in the childhood, with Willa even referring to them as "two peas in a pod".
She had a rough relationship with her youngest sister Waverly, whom she bullied through their childhood.
Is Kind of a Dickhead, according to Nicole Haught in the episode, House of Memories.
Willa was thought to have died in May 2000 during the raid against the Homestead.
She was briefly one of the two Earp heirs, serving alongside her younger sister Wynonna in 2016. Willa's claim as an heir ended with her death.
She is the first Earp to have an affair with a Reventant, Bobo Del Rey, though Wynonna later had a one-night stand with a revenant, and Waverly later kissed Rosita. However, Willa is the only Earp to have a willingly relationship with a revenant, as both Wynonna and Waverly were unaware of their partners' species until after the fact.
References