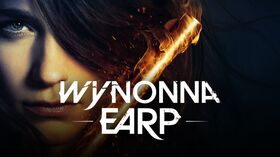 Wynonna Earp is a Canadian, supernatural western television series that follows the life of Wynonna Earp, the great-great-granddaughter of famous lawman Wyatt Earp, who inherited his famous gun Peacemaker and the demon-fighting family curse that comes with it. With the help of her younger sister, Waverly, her boss, Agent Xavier Dolls, notorious gunslinger Doc Holliday and officer Nicole Haught, she tries to rid her hometown of the Revenants, all 77 of them, and break the curse.
Based on a comic series by Beau Smith of the same name, Emily Andras developed the series for television and continues to serve as showrunner and executive producer, while Melanie Scrofano brings life to Wynonna and Dominique Provost-Chalkley to Waverly. Shamier Anderson, Tim Rozon, and Katherine Barrell complete the main character's list.
The show returned for a
fourth season
, which premiered on
July 26, 2020
and aired for 6 episodes
every Sunday
at
10/9c pm on SYFY
. Due to the COVID-19 pandemic, production was cut short and the remaining episodes of the season will be aired in 2021.
The Wynonna Earp Wiki is dedicated to becoming an online resource for the series, Wynonna Earp. We aim to provide information on the characters, episodes, relationships, and all aspects of the series.
The wiki is open to all contributors, but please ensure you read our Introduction and Layout guides prior to editing. Come have a chat with us about the show in our Discussions, or even sign up for an account and help to expand our ever-growing database of content!
Waverly Earp is the youngest Earp sister. After losing her parents and eldest sister at young age, Waverly stayed behing in Purgatory when Wynonna eventually left as well. She grew increasingly interested in the Earp Curse and geared her education towards researching it and the outlaws Wyatt Earp had killed. In contrast to Wynonna, Waverly has a more optimistic attitude towards breaking the curse despite not being the Heir herself. At times, Waverly bitterly wondered why she couldn't break the curse herself, not realizing that it was because she wasn't an Earp to begin with.
Community content is available under
CC-BY-SA
unless otherwise noted.